Punta Arenas and surroundings Tours
Main town in both, Chilean and Argentinian Patagonia. Capital city of Chilean Magellanic province, founded in 1848 by the the first Chilean settlers who took possesion on the Strait of Magellan. This very cosmopolitan city holds over 120,000 inhabitants, mostly descendent from european pioneers who arrived at the end of XIX century, before the Panama Canal openning when Punta Arenas begun it´s great commercial delopment due to the large amount of steam ships sailing through the Strait of Magellan.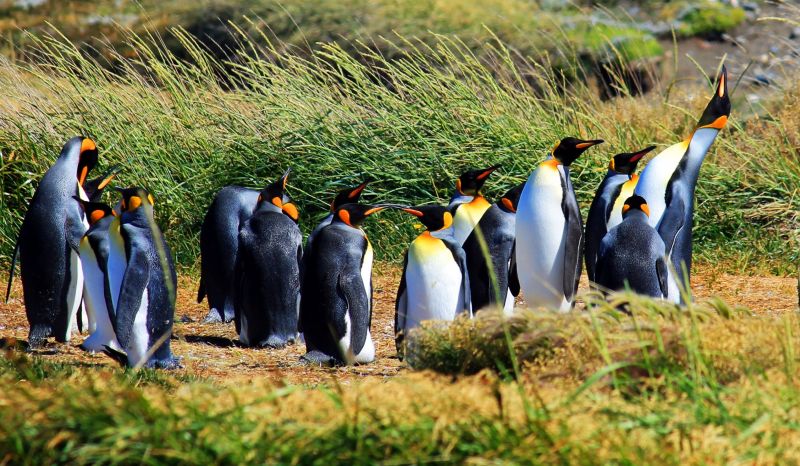 The city economy is basically focus on: Tourism, Oil, Gas and Methanol production, Fishing, Timber and sheep/cattle breeding.
From Punta Arenas you can:
Visit Magellanic penguin colony at Otway fiord
Located 40 miles northwest of Punta Arenas this great nesting point holds over 5,000 couples of the Magellanic penguin specie. These gracious bird are about 2 feet tall and weight 12 pounds.
Beautiful place on the shores of the Otway fiord enjoys a great sea view. A short walk (0.5 mile) is to be taken before arrival. The area is protected and people must walk only by clearly sign trails.
Strait of Magellan Excursion to Fuerte Bulnes
Restored Fort where in 1843 the first Chilean settled in Patagonia, only 40 miles south of Punta Arenas. The road offers at all times a great view of the Magellan Strait, Fireland as well as Patagonian plains and woods.
Shortly before arrival a short stop at Port of Famine is requiered, a beautiful and peacefull bay where in 1584 more than 150 spaniards died from hunger and desolation.
Still can be clearly seen the remains of the Catholic old church at city Rey Don Felipe.
Please ask for rates .